Professional marketers consider email marketing as the most effective digital marketing tactic because often it results in an immediate action. From website forms fills, to online sales, an effective email marketing strategy can help your business drive critical customer actions. Additionally, email is great for building brand loyalty, sharing promotions, encouraging reviews from customers and much more.
Design, targeting, segmentation, subject lines, branding, copy, call to action, graphics, imagery, etc.
A/B testing, delivery timing, personalization, email client compatibility, mobile optimization, etc.
of marketing pros rate email as the most profitable channel in terms of ROI.
Here's some techniques and tactics we can bring to your email marketing strategy…
Newsletters
Keep your audience informed of new products, services, promos and news related to your business.
Promotions
Offer unique and time-sensitive deals, discounts and promos to generate more activity and interest.
Loyalty
Build an email list of your most loyal customers and give them special offers and perks as a thank you.
Communication
Keep your audience informed of important changes like holiday hours, a new address, new policies, etc.
List Building
Grow your list by providing something of value (discounts, insights, etc.) in exchange for email addresses.
Segmentation
Chop up your list into different interest groups in order to send more personalized and relevant emails.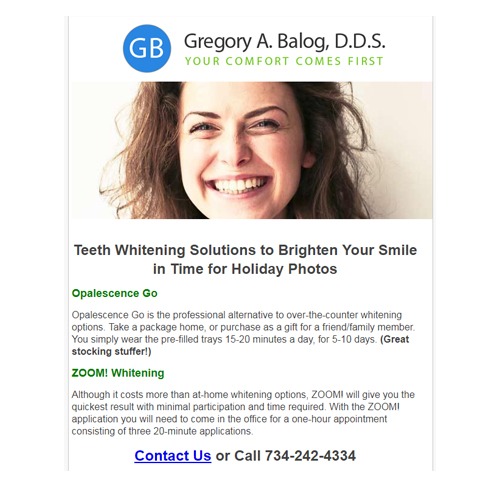 Email Marketing - Work Sample
Teeth Whitening Product Sell Out
Helped a client sell out of a take home teeth-whitening product after just one email to patients.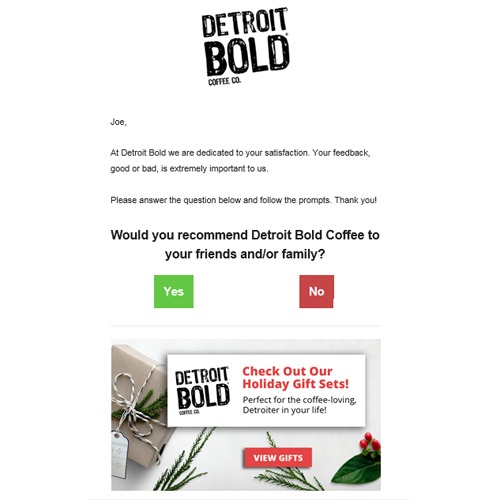 Email Marketing - Work Sample
Personalized Email Seeking Customer Feedback
In an effort to improve communications and customer satisfaction, we send personalized emails requesting customer feedback. The latest email resulted in a 35% open rate and 21% click through rate.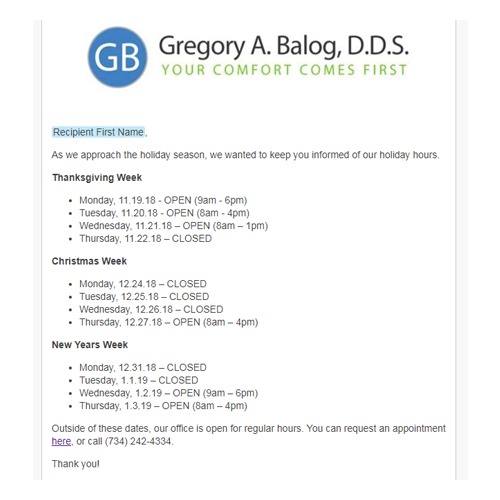 Email Marketing - Work Sample
Holiday Scheduling Notification Drives Appointment Inquiries
Improved customer communications by informing of upcoming holiday office hours, resulting in some inquiries for appointments.